So, this semester I'm learning Maya—it's the same 3-D animation software that Pixar uses. I felt as though I'd be naturally good at it, because I'm an artist, sculptor, computer whiz. But it's actually been quite a challenge.
The program is so challenging, in fact, that we've already begun working on final projects—which aren't due until after my birthday in January. The assignment is to animate a painting three-dimensionally. The instructor suggested 10 paintings that we could choose from, and 9 of them were Dalís. Being an artist, art history buff, and not a huge Dalí fan, I kept with the Surrealist vibe and chose a painting by Dorothea Tanning, who I first encountered a few months back in a profile on salon.com. She was married to the German expressionist Max Ernst (Grosz, Dix…I always go back to them!), but a brilliant and phenomenal artist in her own right long before they met. There are so few women artists out there (especially associated with such a misogynist movement as Surrealism!) that I jumped at the opportunity to learn more about her, because academic research on the imagery and biography of the artist is part of the project. The gender-bias is so strong that I discovered at least four articles published in major scholarly journals that read her famous self-portrait, "Birthday," as an expression of her struggle as the overshadowed spouse of a major artist. The funny thing is, she painted it months and months before meeting Max Ernst.
The piece I chose is "End Game."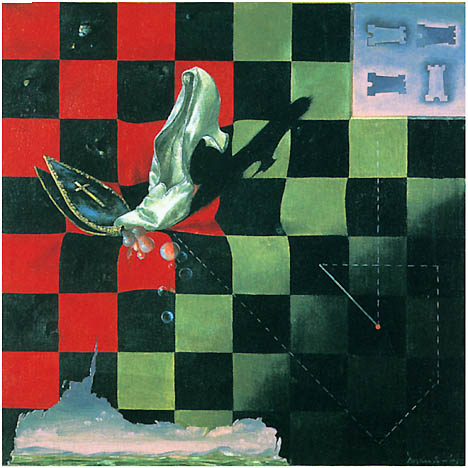 It was created for a Marcel Duchamp-curated 1944 Surrealist exhibit called "The Imagery of Chess." I'm a fairly serious chess-player myself, and the game was incredibly important to Dorothea as well. In fact, she and Ernst fell in love across a chessboard. She competed internationally at chess tournaments, and as part of the "Imagery of Chess" exhibition, Dorothea was one of seven artists who played against a blindfolded Russian grandmaster. Of course, all the artists lost to the professional.
This week's assignment was to storyboard a 30-second animated film, basically plotting out the story in comic-strip format: camera angles, actions of the "characters," including notes on sound effects, etc. I decided to begin by first developing orthogonal views of the major "characters"—the moving pieces—in my story: the Queen and the Bishop. Because they are both exhibiting fairly extreme squash (that is a technical animation term!) in the painting, I wanted to have resting poses available as references. I used a half-dozen images that I found on the web to model front, side, top, bottom, and back views of the Bishop's mitre. For the Queen's shoe, I used one of my own: one of a pair of kittenish orange-and-violet Jeffrey Campbell pumps that my boyfriend bought me on Melrose Avenue in Los Angeles this spring to go with my gorgeous Nanette Lepore dress that Joni Mitchell complimented me on at his sister's star-studded Kodak Theatre wedding; it has a very similar toe shape and heel height to the shoe in the painting (but not the weird tongue!):
I'm playing around with the idea of rendering the rook corner of the board into a three-dimensional cube/box from which the pieces will emerge. The photo is of Dorothea and Max playing chess. The writing near the mitre is Dorothea's characterization of the dictatorial André Breton, who ruled the Surrealists with an iron thumb, despised women, and who Dorothea had an understandably low opinion of. She compares him to a pope, who "saw something and turned it into something much less unconventional."
And a close-up of the Queen:
Here's my progress, as of last night, on the actual assignment: the storyboards themselves:
And that's pretty much where I am right now; I have until Tuesday evening to complete this section of the project. Right now, for music, I'm thinking of fiddling with the last 30-40 seconds of One Ring Zero's "The Cheshire Cat." I want something a bit screwy, disorienting, and I fell for their sound hard when their author project, As Smart as We Are, came out: a CD with lyrics by, in certain circles, our greatest living novelists: Margaret Atwood, Paul Auster, Jonathan Lethem, Dave Eggers, Denis Johnson, etc. They use absurd instruments—theramin, accordian, melodica, claviola—and are very klezmer-influenced. Plus, Carroll brings in another level of chess-lore.